Kathy and Mark have always loved the farm / ranch life! They were married in 1988 and owned Hidden Acres Farm on the Saanich Peninsula, Vancouver Island. It was Mark's grandparents berry farm for years prior to that, but they converted it to a horse farm where they kept draft horses for a number of years. They also had large gardens on the property.

Around 1992, although they'd miss the gentle giants, they switched to saddle horses ... they were far cheaper to keep! They raised butcher pigs, chickens, and a few head of cattle. Somewhere around the mid 1990s they started looking for property on the mainland. They wanted more grass, more room, less rain, and less BC Ferries!

In 1997 they moved to a quarter section (160 acres) of land just north of 70 Mile House. They built, or rebuilt, four guest cabins, and bought a small bunch of horses (24 including their own). Here they ran a successful guest ranch business, renting cabins and doing trail rides. They also ran a small cow calf operation and sold the calves each fall. They retired from the dude ranch stuff in about 2016, mainly because Kathy had acheived her CPA and then bought in as a partner in an accounting firm in 100 Mile House ... now far too busy to clean cabins and make beds ... and Mark, apparently, wasn't into making beds, etc.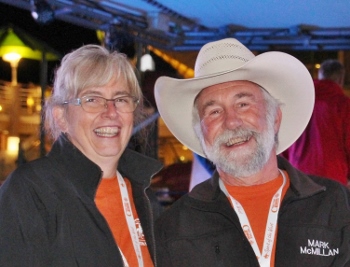 Kathy and Mark
They completely renovated their house from 2017 to 2021. Each year during this period saw them taking a fall vacation to the Okanagan where they enjoyed the wine tasting and the area itself ... the thought was that south Okanagan might make a great place to retire. At that point in time they were thinking maybe in 5 to 10 years ... ?

Well, in October of 2021, while checking out the Oliver area, and looking at a dozen or so properties, they fell in love with a little 3 acre property on Sitka Road just north of Oliver, BC. "We say little because we moved from 160 acres to 3 acres!" It was not farmed when they purchased it, but it did have large gardens, a small greenhouse, and some berries and grapes. After a lot of thought, trying to decide if they should get their farm status or not, they made up their minds to call retirement, semi retirement instead.